---
Internal networking
---
The networking within the CARBOSTORE consortium exists between young and experienced scientists and covers a wide range of disciplines. From the beginning, federal and state authorities are involved as partners in the development and transfer to the implementation.

The individual partners are interdisciplinary networked within the consortium. In order to achieve this, great importance was attached to a joint consideration of the two sea areas, so that the main questions are pursued by the respective groups in both sea areas. In most of the institutions involved, both observing and modeling groups are involved. This allows a comprehensive and in-depth processing of the questions as well as close interlinking between the individual work packages.

Furthermore, a working group will be established in the project to integrate the natural science APs (1-3) with the social science AP 4.This is helpful, among other things, for bidirectional communication between end users, stakeholders and the CARBOSTORE consortium, so that both the work of the consortium and its involvement are optimized.
---
External networking
---
The consortium is also well connected externally. In this context, the networking with the parallel APOC project, which is complementary to CARBOSTORE, should be emphasized. The participation of some scientists in both projects represents a key role through which profitable synergies can be identified and implemented.

CARBOSTORE is supported by an international advisory board that strengthens international contacts of the consortium and the networking of the project in Europe and that of the North Sea and Baltic Sea countries. The direct connection and the expected activities in the German Alliance for Marine Research (DAM) are guaranteed.

CARBOSTORE is well networked on the European and international levels, for example to the Norwegian Institute for Water Research (NIVA) as well as to the Chinese universities Xiamen University and to Shandong University. There is also an exchange with the School for Marine Science and Technology at the University of Massachusetts in the USA. In particular, the networking with Xiamen University serves, among other things, to connect to the international ONCE program (Ocean Negative Carbon Emissions). In addition, there are links to the World Climate Research Program, the CORDEX Initiative and the German Committee for Sustainability Research in Future Earth.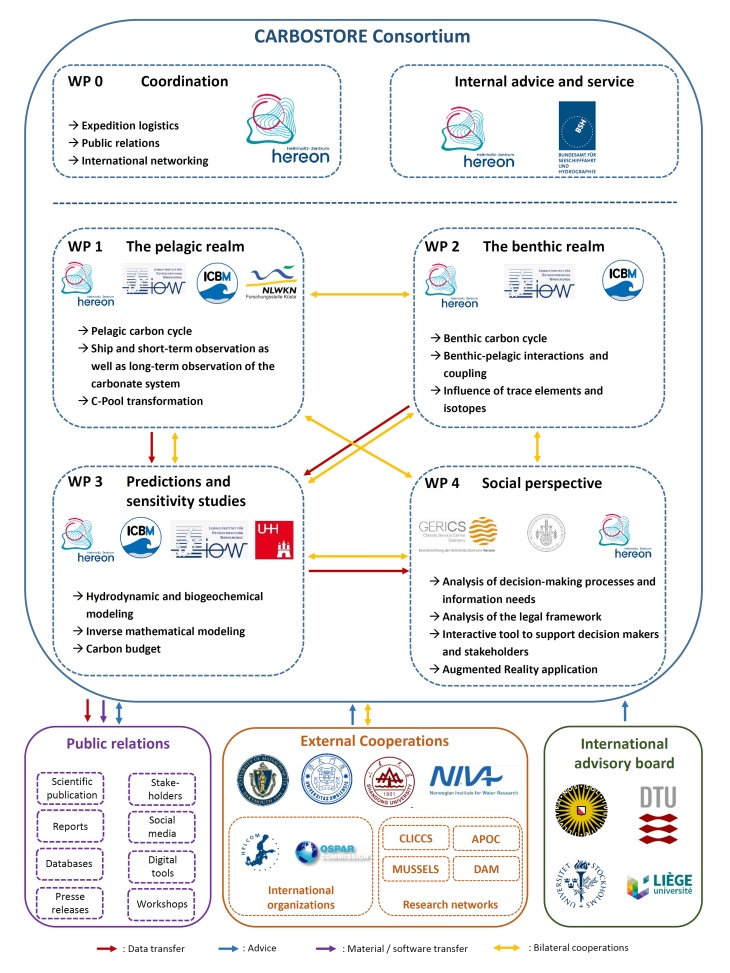 Internal and external networking in the CARBOSTORE consortium.